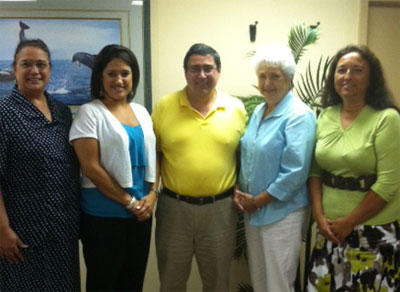 The TERO Department is a regulatory office that efficiently administers the Tribal Employee Rights Ordinance that was established in March 27, 1988 and amended in its entirety on March 17, 2009. TERO is responsible for promoting fair employment practices through the enforcement of Indian Preference Legislation, with the purpose of creating employment opportunities, training, contracting, subcontracting, and business opportunities on and near reservations.
The TERO office is governed directly by the TERO Commission which is created to enforce Indian Preference established by Tribal Council, to establish and to enforce TERO Regulations, and to safeguard the jurisdiction of the Poarch Band of Creek Indians. The powers and duties of the TERO Commission are described in the Tribal Employment Rights Ordinance Section 33 and are provided below. Contact the TERO office at (251) 368-0606 or visit the TERO office to obtain a copy of the TERO Ordinance and any applicable forms that are listed.
The TERO Board consists of 5 Commissioners: Chairman, Vice-Chairman, Treasurer, Secretary, and Commissioner.
The commission shall have the following powers and duties:
Certify businesses as Tribal Business, 100% Tribal Member Business, 51% Tribal Member Business, Indian Business Enterprise, or Join Venture
Maintain a list of Certified Businesses
Assist Tribal Members in obtaining certification
Coordinate training and mentorship programs for Tribal Members and Indians
In consultation with the Tribal Council, monitor all contracting activities on Tribal Lands
Inform Tribal Government, Tribal Entities, Employers, and Contractors of the requirements of this Ordinance with respect to employment and contact procurement under this Ordinance
Oversee the Certified Businesses receive invitations to bid on contracts
Establish a tribal labor surplus pool and refer Tribal Members and other Indians to an Employer or Contractor for employment consideration
Assist procurement officers or responsible positions in the designation of contracts appropriate for the set aside program
Develop and maintain an audit and reporting system which measures the effectiveness of the Indian Preference Policy in meeting its goals and objectives
Establish procedures for TERO's regulatory proceedings
Establish procedures, forms and policies necessary to carry out the purposes of the Ordinance
Enforce any employment and procurement laws, policies, and/or procedures in accordance with Chapter 9 of this Ordinance.
Special Notice
The Tribal Council introduced legislation to amend Title 33 (Tribal Employment Rights) of the Poarch Band of Creek Indians Tribal Code on October 16, 2014. The Proposed Ordinance and Summary have been posted in the Tribal Member Only Portal (TMOP) of the Tribe's official web site, www.pci-nsn.gov. The TMOP is accessible to Tribal Members Only utilizing their previously assigned username and password.
If you have any questions regarding any of these matters, please feel free to contact any of your Tribal Council Members at (251) 446-1140 or the Legal Department at (251) 368-9136 ext. 2525. Written comments must be submitted to the Tribal Council Office at 5811 Jack Springs Road, Atmore, AL 36502 by 5 p.m. on Monday, November 3, 2014.
TERO Downloads
TERO Forms
Department Contacts
Renee Brown
TERO Clerk
(251) 368-0606
rsbrown@pci-nsn.gov
Rebecca Mills
TERO Employment Specialist
(251) 368-0606 ext. 10